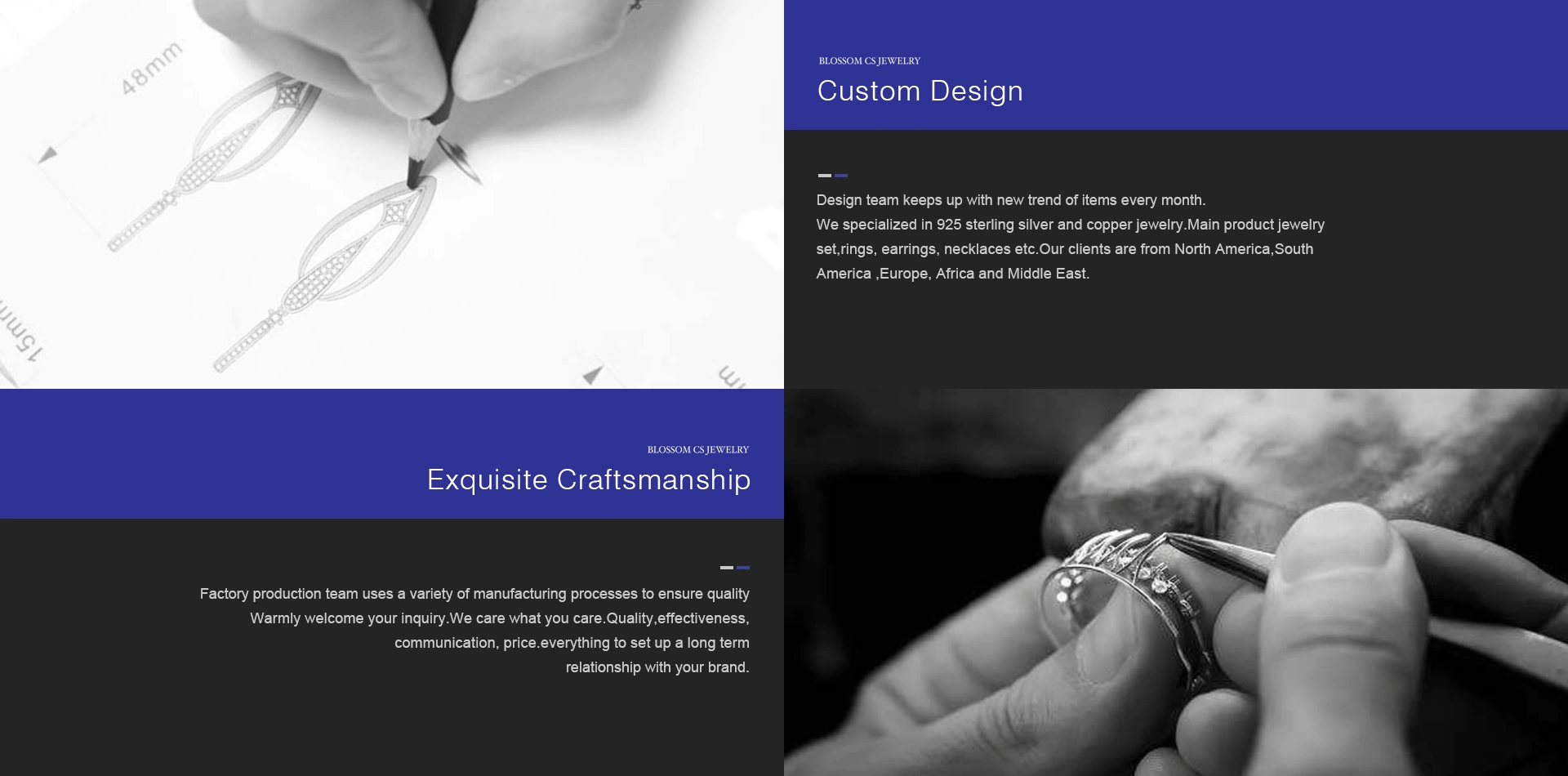 The raw material of silver jewelry is silver, which, like gold, belongs to precious metals. Its color is silvery white and warm. Although it is not as distinguished as gold and jewelry, it can reflect its personality by its craft and design, either elegant and quiet, or alternative and chic... Silver ornaments are processed by various processing techniques, which can be divided into five categories: ear ornaments, neck ornaments, hand ornaments, foot ornaments and clothing. The popular on the market at present most is the silver such as chain of necklace, hand, eardrop to act the role of article.
Fashion trends and styles
American jeweller contemporary magazine announced that silver jewellery was on the rise, judging by some of the pieces on display at this year's Las Vegas jewellery show. Overall speaking, this season jewelry takes large size and light route, the practice that carries on with dramatic proportion, give jewelry this year a kind of organic, integral whole feeling. Silver jewelry, in particular, is popular with wristbands, bracelets and long necklaces with unique designs that are easy to stack and mix, and help consumers harmonize the new silver style with all the jewelry they already own, making it an ideal accessories must-have for women in 2010.
From 2009 to 2010, the network launched the top ten silver jewelry brands that attracted the most attention, including Tiffany from the United States, Qike from Taiwan, V6 from France, China's Corsair, Chow Tai Fook and other brands. Other stylish brands are popular among women, such as Linlin Silver Jewelry, which has become a favorite of some entertainers and foreigners living in China.
Founded in Guangzhou in 2005, Blossom CS Silver Jewelry is a unique and artistic product inspired by traditional Chinese culture and the latest fashion trends, as well as the designer's personal feelings. Each item of Blossom CS Silver is a work of art, highlighting the brand's otherworldly ethos.
Collocation principles and methods
Silver is acted the role of the tension that has a kind of mystery, because of stylistic design different can carve the effect that gives different, ok already bold and bold, ok also quiet and comfortable, the most important tie-in principle is to suit him.
1.Match with your temperament. We adhere to humanism in the selection of silver ornaments. We believe that each silver ornament has its own corresponding master. Sweet and charming girls can choose round and delicate bracelets and anklets. The artistic female of fashionable avant-garde can choose the bracelet with contracted and exaggerated modelling, ring, or full set silver is acted the role of; Ladies with a ladylike vibe can opt for long, thin necklaces and delicate earrings. Abundant and graceful women can choose inlaid jewelry series to highlight the nobleness and elegance of women.
2. Fit with your physique. Long face is not suitable for wearing long earrings, round face should not use large earrings to highlight the round cheek, square face can not match triangular earrings; Thin arm, not suitable for a large bracelet; Short, stubby fingers don't work with a flamboyant ring; Face slants dark female, do not suit copy old inlay type silver act the role ofing.
3. Match it with your outfit. Professional clothing is suitable for matching simple style and exquisite silver ornaments with small shape; Casual wear is suitable for matching unique design, modelling exaggerated individual silver ornaments; Evening wear goes well with bright, modest-sized styles.
4. Silver jewelry belongs to the fashion jewelry, and we should pay attention to changing the style of wearing frequently, and do not wear the silver jewelry with too obvious fashion elements to be out of date.
5. Attention should be paid to the matching of silver ornaments inlaid with gems. Silver inlaid with turquoise is suitable for black clothes, which highlights the nobility of the wearer. Silver inlaid red coral is suitable for white
clothing, more foil the wearer's luxurious; Silver ornaments inlaid with colored stones are suitable for young girls to wear, while mature women can choose silver ornaments inlaid with solid colored stones.
6. Take the fashion route. For instance the silver that most two years popular will two kinds of above is acted the role of mutual collocation, hang the chain of two different design in same necklace namely drop, perhaps two above hand chain is adorn on a wrist to wait, build the feeling that gives extraordinary. Of course, if the modeling sense of silver ornaments itself is strong enough, it is necessary to focus on matching, reflecting the beauty of harmony.